Deposit Funds to Your RockFlow Account
Go to [Mine] and tap "Deposit Funds"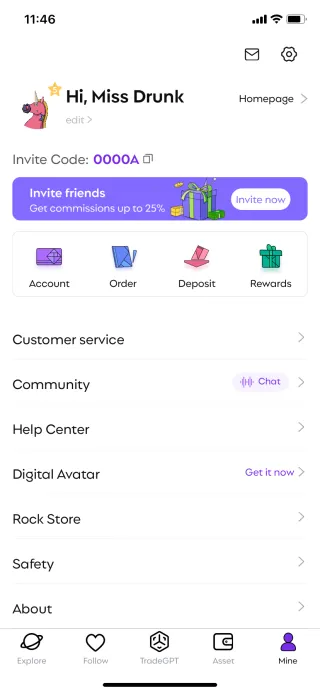 )
Select the currency from the drop-down menu. A lot of currencies are now available, including USD, CAD, CNH, EUR, MYR, VND etc. Then enter the amount of money you'd like to fund. Fund over $2500 will automatically unlock average 2x leverage trading in your account!
Choose a deposit method. We support multiple deposit methods for different currencies.
If you choose to use a credit or debit card, we currently support Visa and Mastercard. Please enter your card information, and ensure that the cardholder's name matches the name used when opening the account.
If you are using wire transfer, you'll need to copy the information shown below and use an International Money Transfer service offered by a bank or any third-party service provider. Funds will be typically received in 1-2 business days. Don't forget to save or screenshot the transfer receipts!
Upload your transfer receipts that should include both your name, RockFlow's account name, account number and total amount.
After you confirm you have uploaded the receipts, you will be notified via email, SMS and app push notification once your deposit arrives.