Allbirds fooled the secondary market, just like other Direct to Consumer brands listed in 2021.
The most prominent features of Allbirds are sustainability, low-carbon, and being environmentally friendly. Since going public on Nasdaq in November 2021, Allbirds' stock price has fluctuated a lot. The fact that solely increasing revenue instead of profits is put in front of secondary market investors.
The 4P theory: Product, Price, Place, and Promotion, the lifeline of a company selling consumer products, has long been explained back to the 1960s. Entering the new consumption era, on the one hand, this formula is still widely applicable. However, on the other hand, a new-style DTC model (Direct-to-consumer) has been dramatically replacing traditional dealer channels, and advertising has also moved from legacy mass media to digital space. Social media has then become a major battlefield for consumer product marketing.
When the sky of new consumption is expanding more and more, Allbirds flys in a gesture that is not as beautiful as it seemed to be.
Being Sustainable Might Not a Moat Against Allbirds' Competitors​
Allbirds has its beautiful storytelling of a pair of environmentally-friendly shoes.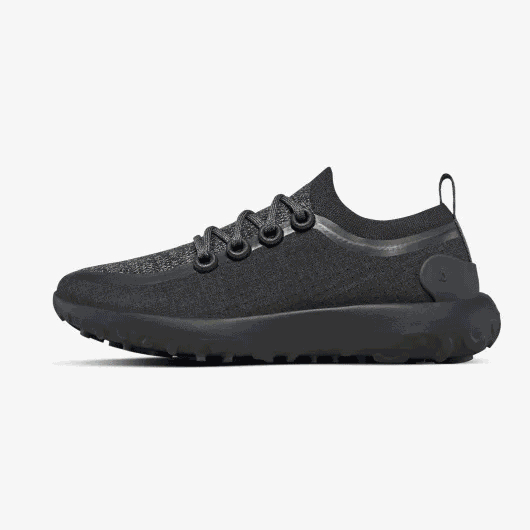 Allbirds was born in 2015. New Zealand football star Tim Brown used wool from his hometown to create sustainable and super comfortable footwear. On the one hand, Allbirds' simplicity in design with no logos or prints met Silicon Valley's tastes. On the other hand, Allbirds' sustainability and carbon-neutral commitment perfectly align with the global trend of having a low-carbon lifestyle and sustainable economy.
The raw materials of the Allbirds products come from nature, such as New Zealand Merino wool, South African eucalyptus fiber, and Brazilian sugar cane. The carbon footprint is 30% lower than ordinary sports shoes. Green, comfortable, and machine washable are Allbirds' biggest and unique sales.
Since its establishment in 2015, Allbirds has sold 8 million pairs of shoes to 4 million customers worldwide, of which 3.3 million customers are from the United States. From Silicon Valley to Wall Street, a bigger playing field means stronger competition for Allbirds.
An imminent threat Allbirds faces is that major sports brands have also realized the importance of being environmentally friendly and are constantly marketing their effort. For footwear, being sustainable is more like an itchy point rather than a pain point for users. How attractive can Allbirds still be, when Nike, Adidas, Puma, and other well-known sports brands successively launch their low-carbon footprint sports shoes?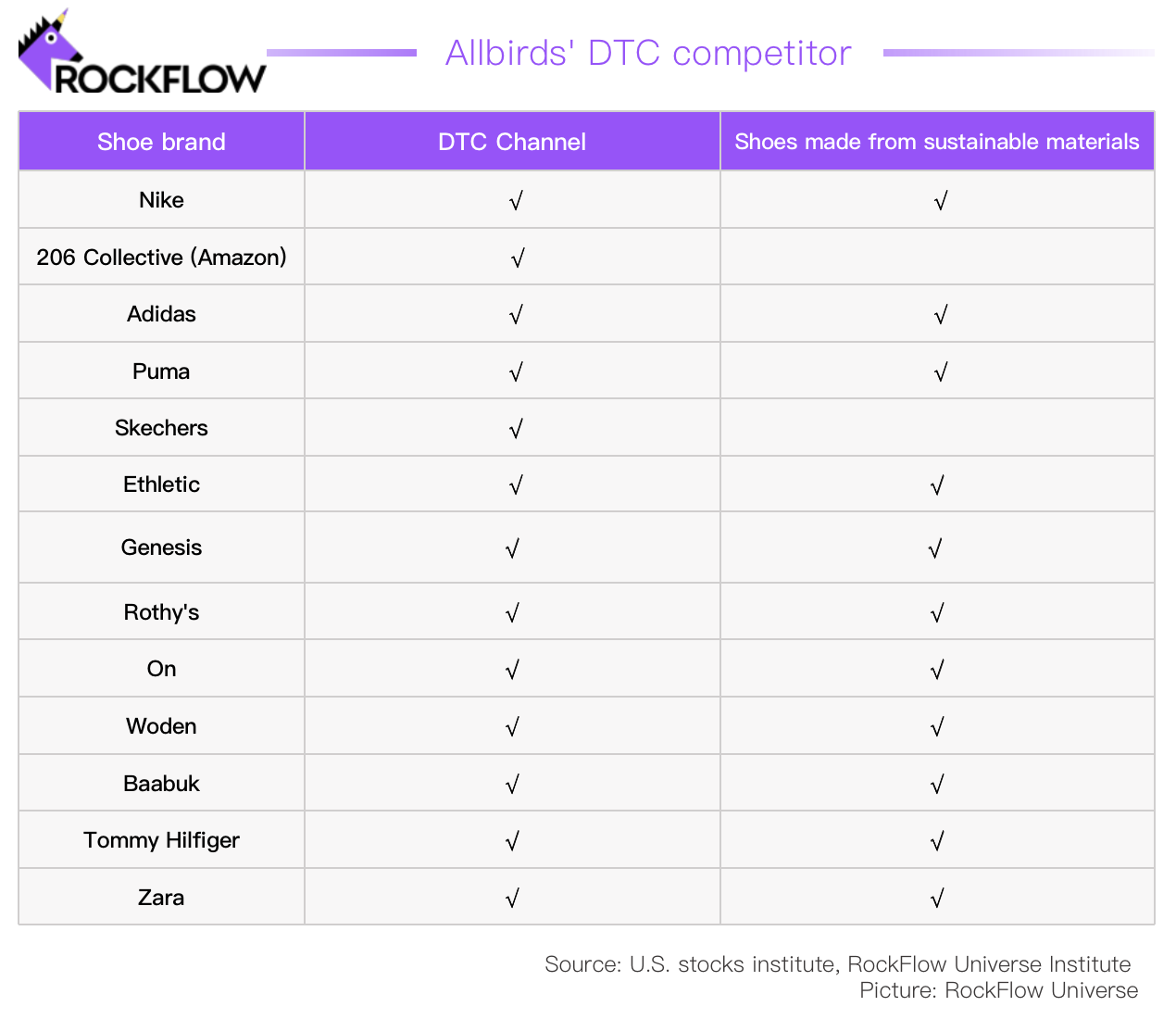 Allbirds' concept is outstanding, but might not be able to let it outcompete other players. Even Himanshu Sinha, vice president of digital growth and e-commerce at Allbirds, said in an interview, "Sustainability is important, but for most people, it is not an independent purchase motivation. Products must also be innovative and high-quality to establish contact with consumers."
Aware of the limitations of the sole concept of low-carbon, Allbirds tried to expand its business from casual shoes to sports and even clothing, but it didn't make much splash. In 2021, Allbirds launched a professional sneaker line, but the new model that came out only less than a year along with the unclear market positioning made it difficult to change the long-term accumulated brand image. At the same time, Allbirds, which is priced at mid-to-high-end, is facing fierce competition from professional running shoe players.
Just take look at On, the sports shoe brand that submitted the prospectus in 2021. The sneakers of On have CloudTec cushioning technology, Speedboard that transforms impact into explosive power, and the Cloud model with a zero-gravity outsole. Consumers might not understand what these technologies are, but they will think they are powerful.
Allbirds, which is not winning in either functionality or style, and did not go very smoothly to expanding its business, might reach the market ceiling very soon and thus face the future challenge of slow growth.
It's worth noting that from 2018 to 2020, Allbirds' losses have intensified. In 2020, Allbirds' EBITDA loss was US$15.4 million, a big increase from the loss of US$1.3 million in 2019. In the third quarter of 2021, Allbirds suffered a loss of $13.8 million, doubling the loss in the same period in 2020.
The Challenge of Single-Channel Retailing​
Allbirds is heavily relied on DTC to sell and market its products.
Compared with the traditional dealer model, DTC cut down the cost of intermediate channels, and can help the company to obtain a higher gross profit margin, thus is favored by many emerging brands. But DTC is a model anyone can adopt. When major consumer brands start to do DTC, Allbirds' advantage seems not to be strong enough.
Yet Allbirds is still an aggressive DTC player. Not only does it completely marketing through paid media, but it further relies heavily on online stores as the major access to their product. Currently, they only have 31 offline stores. In 2020, Allbirds' online channels accounted for 89% of total sales, which was much higher than Lululemon's 51.9% and On's 37.7%.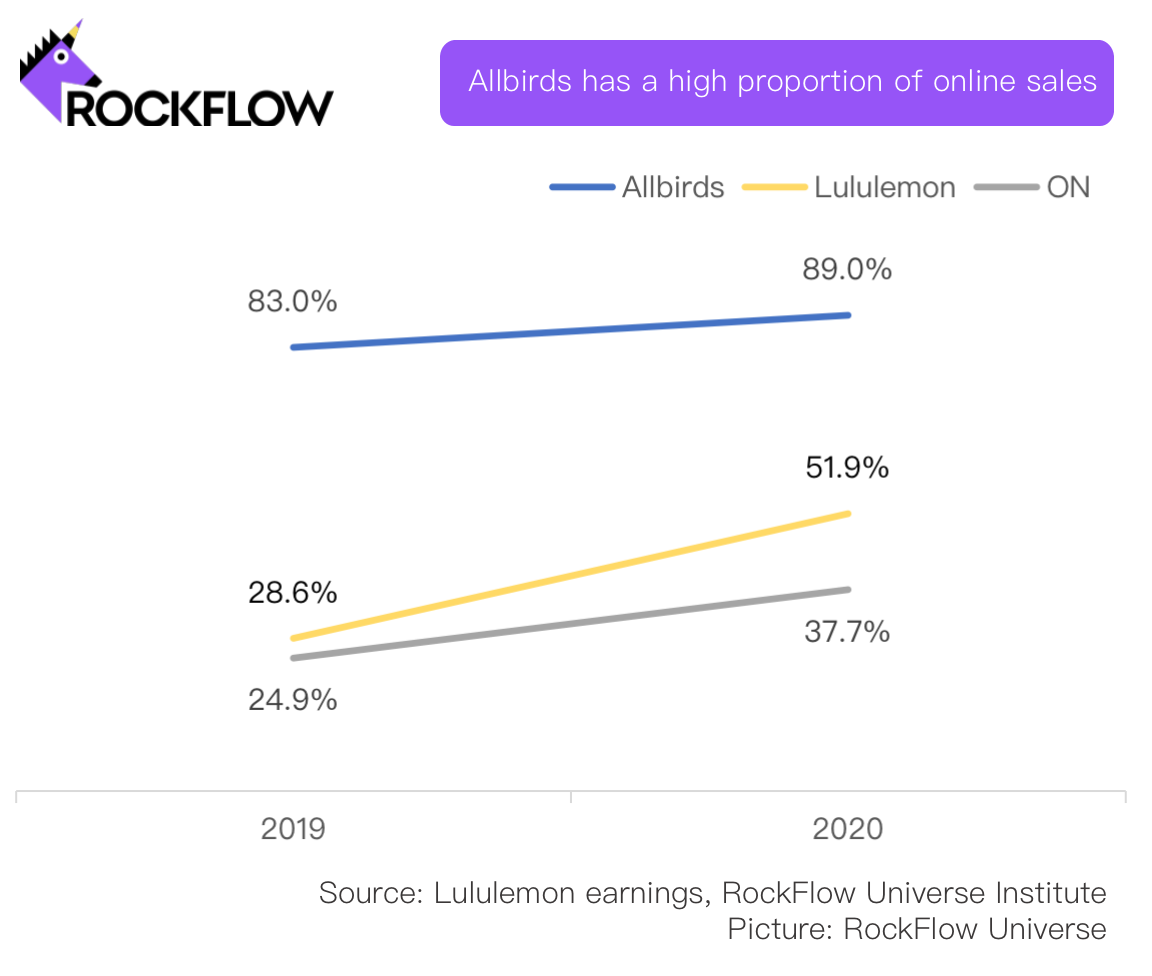 In contrast, On and Lululemon adopt a more diversified strategy. On has more than 8,000 franchised stores and 5 directly-operated one around the world. In 2020 and the first half of 2021, On's DTC channel respectively contributed 37.7% and 36.6% of its net sales.
Lululemon only defines online channels as DTC in its financial report, though it had 521 locations worldwide by the end of 2020. Lululemon's online revenue has grown year by year in the past five years and it accounted for 51.9% by 2020.
Interestingly, Lululemon and On have planned to further expand the scale of DTC channels. Allbirds, which holds high of DTC and relies on its online channels, still struggles to make profits.
Comparing the three, the importance of offline stores has become prominent. Allbirds has been aware of it. Himanshu Sinha said in a recent interview, "Our data shows that consumers who shop online and offline at the same time have a higher repurchase rate and LTV (lifetime value)."
Social Media: Made the Brand and Broke the Company​
Since 2016, people from Silicon Valley to Hollywood started to mention Allbirds on social media. Google co-founder Larry Page, Apple CEO Tim Cook, former U.S. President Barack Obama, and movie star Leonardo are all fans of the brand.
However, when brands rely more and more on social media marketing, social media hype itself has also become packed and expensive. According to a digital marketing report from Merkel, as of the second quarter of 2021, online CPC (cost per click) has increased by 35% year-on-year. Brands need to spend more money to achieve the same effect they used to.
In the recently disclosed financial report, Allbirds said that the company's high operating expenses played a major part in the loss. In 2020, Allbirds' operating expenses increased to US$142 million, and operating expenses took 55.7% of revenue in 2019 and 64.7% in 2020.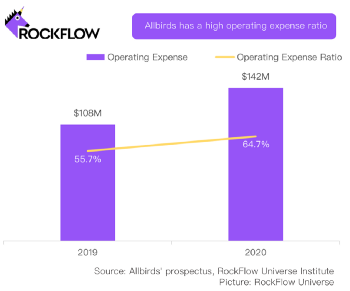 Compared with its peers, Allbirds' marketing expenses top the list as well. In 2020, Allbirds' spent USD 55.27 million on marketing, which increased from 22.9% in 2019 to 25.2% in 2020. In the third quarter of 2021, the proportion of Allbirds' marketing expenses declined slightly, but the proportion of its marketing expenses was still much higher than the 12.6% of ON in the same period.
Allbirds claimed in the prospectus that the customer repurchase rate reached 53%, though, the repurchase rate of On, which is almost twice the unit price of Allbirds, can also reach 43%. Both of them are products with high gross profit and high repurchase rates. Why is ON's customer acquisition efficiency so much higher? The difference is mainly reflected in the cost of customer acquisition. According to estimates, Allbirds' CAC (customer acquisition cost) has gradually increased in the past two years, reaching 49.3 in 2020, which is much higher than ON's CAC, 26.7 in the first half of 2020.
In the consumer product industry, LTV/CAC is a method to measure profitability or sales efficiency. Companies with LTV/CAC<1 are not feasible, and companies with LTV/CAC>3 are considered to have a high chance of occupying a leading position in the industry. In terms of customer acquisition efficiency, Allbirds' LTV/CAC is only 2.0 in 2020, which is much lower than the 5.7 of ON in the same period.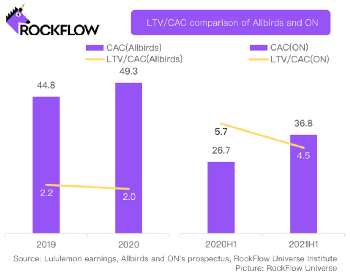 To further on, the difference in customer acquisition efficiency has something to do with product positioning. ON is focusing on functional and professional sports footwear. Based on its brand positioning, ON's marketing strategy is also highly targeted. Likewise, they are active on social media, but furthermore, they have been running many influencer campaigns with both well-known and 'grass-rooted' athletes for product review, leaving an image of fitness expert in customers' minds.
However, Allbirds cannot serve an enormous market by relying solely on the concept of environmental protection. The current position of Allbirds determines that its consumers might only be a niche group of people.
Whether it is Allbirds, or Warby Parker, the predecessor of DTC, they all got taught by the market after listing — the stock price kept falling and even fell below their issue price.
In reality, an excellent consumer brand should discover and meet the real needs of customers. Compared with its peers, Allbirds have done an excellent job in products, channels, prices, and marketing, and they have successfully differentiated itself from other brands in terms of its socially-conscious corporate mission. What they might need to look after now is converting customers' loyalty to sustainable purchasing power.