It shocked the entire EV industrywhen Rivian, the electric truck market's game-changer, whose IPO raised $11.9 billion in 2021.
On Nov 10, 2021, Rivian, an American electric car start-up, was listed on the Nasdaq exchange. After the opening, the stock price rose to $119.46, closing at $100.73 that day. Its market value reached $85.9 billion, becoming a new stock market miracle.
As an electric car brand focusing on outdoor pickups and SUVs, Rivian has a huge investment support team. Since 2018, Rivian has completed at least eight rounds of fund raising, with a total financing amount of nearly 11 billion U.S. dollars. Investors include Amazon, T. Rowe Price Group, Ford, Blackstone, Standard Chartered Bank, etc.
Amazon is Rivian's largest shareholder. Before Rivian was in mass production, it ordered 100,000 EDVs for delivery trucks. Jeff Bezos, the founder of Amazon and the richest man in the world, took a Rivian electric car on his trip to space and spared no effort to advertise it.
Backed by big investors and having a huge number of preorders, Rivian's stock price soared after the IPO. However, there are always underlying concerns behind prosperity.
As the new energy vehicle industry is becoming more and more packed, who is Rivian's actual competitor?
Rivian: Tesla Cybertruck Killer, Top Electric Pickup Truck​
When discussing Rivian, it has long been dubbed the Tesla killer.
However, in the competition with Tesla, its founder, Scaringe, wisely picked a path to avoid head-on collisions.
In 2010, Tesla was listed on the Nasdaq in the United States, changing the ways countless people travel. To differentiate themselves from Tesla, Scaringe decided in 2011 to change the company's positioning to producing electric pickups and SUVs for people who love outdoor adventures.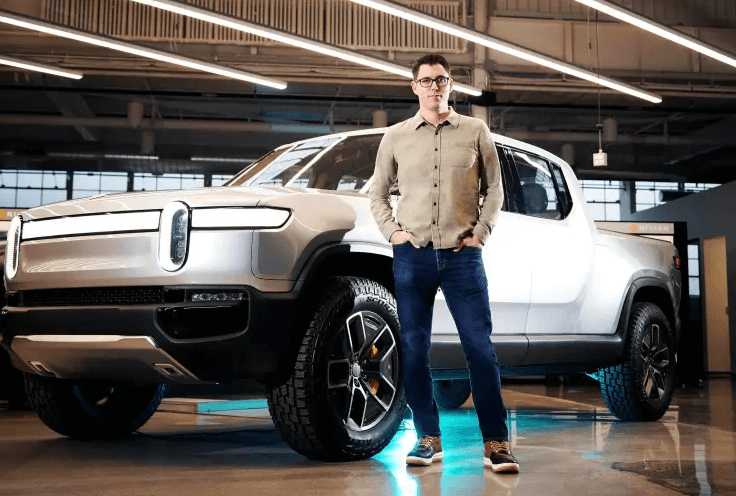 After ten years of development, Rivian just completed the delivery of its first car in 2021. In terms of product functionality, what's most impressive about Rivian's electric pickup R1T is its off-road performance. The pickup adopts four-motor all-wheel drive, and the tires can have different speeds so the vehicle can make a circle on the same spot. In addition, the vehicle can wade up to 3 feet, climb 45 degrees, and avoid obstacles up to 38.1 cm.
Moreover, it is worth mentioning that R1T has an electric skateboard platform, one of Rivian's edgy technologies, which efficiently packages the motor, battery management system (BMS), cooling system, suspension, and hydraulic control into the chassis, and at the same time delivering a low center of gravity.
However, Tesla's Cybertruck is not without charms. It is still in the lead, in terms of the range it offers, accommodation space, towing capacity, and 0-60 mph acceleration time.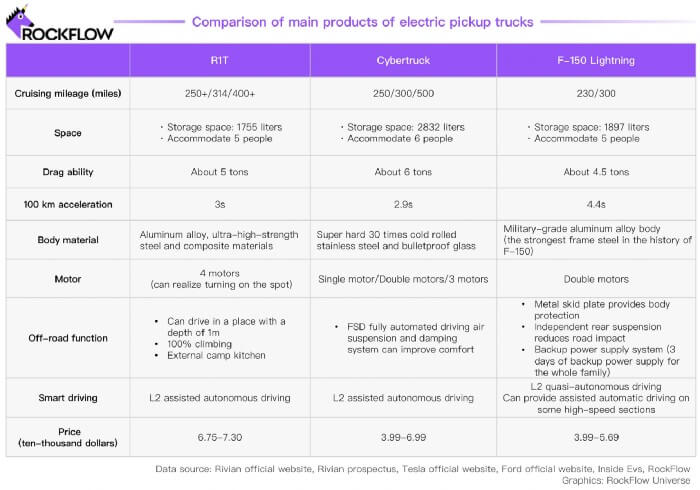 The delayed delivery of Tesla Cybertruck gave Rivian more than a year of respite. Whether Rivian can seize this year's market gap to increase production and catch up, is critical for this rookie vehicle manufacturer.
Ford: An Investor And A Rival​
When it comes to the pickup truck market in the U.S., Ford wins big. As a shareholder of Rivian, Ford's role in this electric truck race is very intriguing. To Rivian, Ford is both an investor and a rival.
In April 2019, after a fierce battle with GM, Ford invested $500 million and finally got Rivian's equity, sitting on 14.4% of Rivian's Class A stock and 13% of the voting rights. Although Ford's shares were diluted to 12.2% and voting rights were diluted to 11.1% after Rivian's IPO, it was still Rivian's fourth-largest shareholder.
Joe Hinrichs, head of Ford's motor division, also joined Rivian's seven-person board of directors. In exchange of the investment, Ford obtained the right to use the Rivian electric 'skateboard' platform, including motors, batteries, suspension, and drive shafts. Ford was planning to further utilize Rivian's technology to help build its own electric SUV, Lincoln Mark E.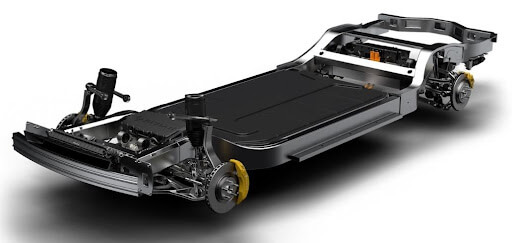 However, Ford and Rivian's collaboration project on Lincoln Mark E came to an end a year later. Rivian's IPO documents show that Ford executive Alexandra Ford English has left Rivian's board of directors in May 2021. English is the daughter of Ford Executive Chairman Bill Ford. She joined Rivian's board of directors in May 2020, succeeding Joe Hinrichs who left Ford.
In May 2021, Ford held a launch event for the electric pickup truck F-150 Lightning. And in April 2022, Ford shared its new electrification plans, debuting Star SUV Concept, and made promises of four luxury EVs arriving by 2025 and 2026.
When Rivian tried to break into the market with stylish and interesting off-road electric pickup features, Ford relied on its solid mass base and years of market accumulation, to face Rivian head-on.
There is not much time left for Rivian to reach more customers and occupy the electric pickup truck market.
Who are Rivian's Truck Buyers?​
Pickup truck has been popular in the United States for years and has become one of the representatives of the American culture.
In 2020, the sales of pickup trucks in the U.S. market surpassed sedans for the first time, accounting for 20.1% of the U.S. new car market. Last year, nearly 3 million full-size and mid-size pickup trucks were sold in the U.S., of which full-size pickup trucks have long been the most popular type.
Rivian R1T, which is designed for luxury, pricing from USD 67.5k to 70.3k, is more expensive than the entry-level F-150 Lightning and Cybertruck.
But the capital market doesn't want to miss another Tesla again. The total market value of Rivian last year exceeded $100 billion, currently having a market cap of $30.89B. As the first vehicle successfully delivered in the electric pickup market, R1T seized an important opportunity.
Although Ford and Tesla's electric pickups haven't started delivering their vehicles, they got a more well-known brand, a well-established infrastructure, a broader user base, and a more economical price. When these players join the game and start scaling, the advantage of Rivian could fade rapidly.
For now, the major challenge for Rivian is to increase mass production capacity as soon as possible. So that it can quickly occupy U.S. electric pickup market and be recognized by its customers.